My Blog
Posts for: January, 2018
By Shawsheen Family Dental
January 19, 2018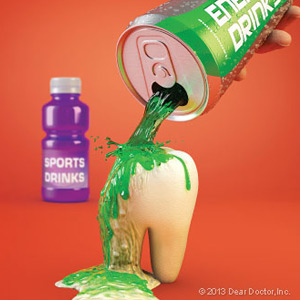 Sports drinks have been widely touted as an ideal way to replenish carbohydrates, electrolytes and, of course, fluids after a strenuous event or workout. But the mixtures of many popular brands often contain acid and added sugar, similar to other types of soft drinks. This can create an acidic environment in the mouth that can be damaging to tooth enamel.
Of course, the best way to replenish fluids after most strenuous activities is nature's hydrator, water. If, however, you or a family member does drink the occasional sports beverage, you can help reduce the acid impact and help protect tooth enamel by following these 3 tips.
Avoid sipping a sports drink over long periods. Sipping on a drink constantly for hours interferes with saliva, the bodily fluid responsible for neutralizing mouth acid. But because the process can take thirty minutes to an hour to bring the mouth to a normal pH, saliva may not be able to complete neutralization because of the constant presence of acid caused by sipping. It's best then to limit sports drinks to set periods or preferably during mealtimes.
Rinse your mouth out with water after drinking.  Enamel damage occurs after extended periods of exposure to acid. Rinsing your mouth out immediately after consuming a sports drink will wash away a good amount of any remaining acid and help normalize your mouth's pH level. And since water has a neutral pH, it won't add to the acid levels.
Wait an hour to brush after eating. As mentioned before, saliva takes time to neutralize mouth acid. Even in that short period of time, though, acid can soften some of the mineral content in enamel. If you brush during this "soft" period, you may inadvertently brush away some of the minerals. By waiting an hour, you give saliva time not only to neutralize acid but also restore mineral strength to the enamel.
If you would like more information on sports and energy drinks and their effect on dental health, please contact us or schedule an appointment for a consultation. You can also learn more about this topic by reading the Dear Doctor magazine article "Think Before you Drink."
By Shawsheen Family Dental
January 04, 2018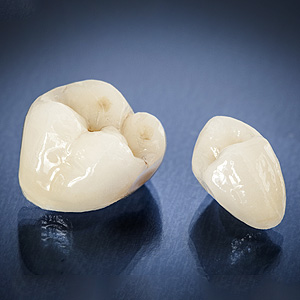 All crowns are designed to restore functionality to a damaged tooth. But crowns can differ from one another in their appearance, in the material they're made from, and how they blend with other teeth.
A crown is a metal or porcelain artifice that's bonded permanently over a decayed or damaged tooth. Every crown process begins with preparation of the tooth so the crown will fit over it. Afterward, we make an impression of the prepared tooth digitally or with an elastic material that most often is sent to a dental laboratory to create the new crown.
It's at this point where crown composition and design can diverge. Most of the first known crowns were made of metal (usually gold or silver), which is still a component in some crowns today. A few decades ago dental porcelain, a form of ceramic that could provide a tooth-like appearance, began to emerge as a crown material. The first types of porcelain could match a real tooth's color or texture, but were brittle and didn't hold up well to biting forces. Dentists developed a crown with a metal interior for strength and a fused outside layer of porcelain for appearance.
This hybrid became the crown design of choice up until the last decade. It is being overtaken, though, by all-ceramic crowns made with new forms of more durable porcelain, some strengthened with a material known as Lucite. Today, only about 40% of crowns installed annually are the metal-porcelain hybrid, while all-porcelain crowns are growing in popularity.
Of course, these newer porcelain crowns and the attention to the artistic detail they require are often more expensive than more traditional crowns. If you depend on dental insurance to help with your dental care costs, you may find your policy maximum benefit for these newer type crowns won't cover the costs.
If you want the most affordable price and are satisfied primarily with restored function, a basic crown is still a viable choice. If, however, you would like a crown that does the most for your smile, you may want to consider one with newer, stronger porcelain and made with greater artistic detail by the dental technician. In either case, the crown you receive will restore lost function and provide some degree of improvement to the appearance of a damaged tooth.
If you would like more information on porcelain crown, please contact us or schedule an appointment for a consultation.