Advancing Technique for the Safety of Our Patients and Staff
In this COVID-19 Pandemic I am looking to add confidence in the safety and protection of us all.
In the wake of the recent global pandemic, in addition to our ongoing strict guidelines with regards to CDC mandates and "universal precautions", we are pleased to announce an additional layer of safety we have added to facilitate the care and protection of both our patients and our staff.
From personal protection (safety eyewear/mask/gloves/fluid resistant wear) to complete sterilization of all instrumentation to infection control protocol in all operatories, laboratories, bathroom facilities, hallways, front office reception area complete throughout our waiting room we are there to provide dental care in a safe and comfortable environment. We have extensive hand-washing protocols for all staff members in place. We meet the highest standard in training, including weekly testing and an annual training session with our OSHA compliance coordinator.
We are confident the Vanguard Gold Mobile – Extraoral Dental Suction is a great addition to our safety protocol.
Infection Control Methods and Precautions
While many things have changed for us, one thing remains the same: our commitment to your safety. Infection control has always been a top priority in our practice. Our infection control protocols and systems are designed to provide dental care that is safe, efficient, and comfortable.
In our practice we follow infection control recommendations made by the American Dental Association (ADA), the U.S. Centers for Disease Control and Prevention (CDC) and the Occupational Safety and Health Administration (OSHA). We regularly monitor activities of these agencies and keep up-to-date on all new rulings or guidance that may be issued. The infection control procedures in our office are current and adhere to each of these safety recommendations.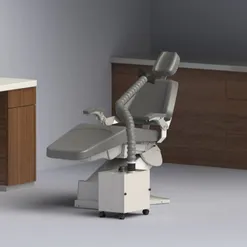 We have incorporated Covid-19 standard PPE into our clinical systems and protocols including N95/KN95 masks, face shields, gloves and lab coats as best prescribed for each clinical procedure.
We have always utilized state of the art medical grade sterilization equipment and protocols.
We have invested in equipment to reduce aerosols in the clinical area and treatment rooms.
Complete disinfection of treatment rooms between each patient is already standard in our office.
We enhanced our HAVAC system by adding a Medical Air Filtration System H13 HEPA throughout the office.
We added the Vanguard Gold Mobile – Extraoral Dental Suction for Aerosols.
This dental suction provides 3x the suction with quality American manufacturing. It's quiet (53dB on high) and utilizes a powerful HEPA filter which safely captures microbes such as viruses and other contaminants within biological aerosols.

We are grateful to have you as a patient in our practice. We value your trust and loyalty and look forward to establishing a new normal in our practice. The CDC has recognized that infection control standards in a dental office are safer than many other places you may visit such as a grocery store, pharmacy, or restaurant for take-out. If you have any questions or concerns please ask us in the office when you are here, or give us a call any time at (978) 851-7112